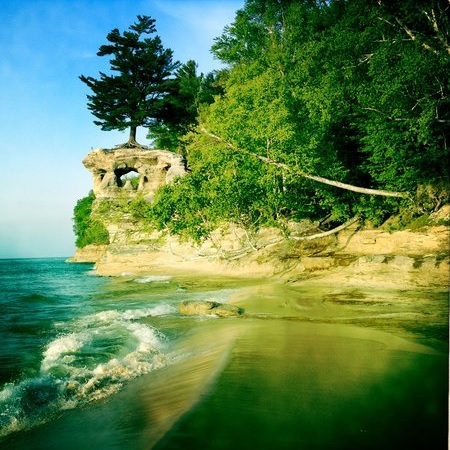 Chapel Rock, Lake Superior
5/28/2012 | Pictured Rocks National Lakeshore, Munising, MI
Over Memorial Day, we took a backcountry camping trip to the hauntingly beautiful but remote Pictured Rocks National Lakeshore in the Upper Peninsula of Michigan. Clinging to the southern shore of Lake Superior over forty miles, the Pictured Rocks National Lakeshore hosts dramatic sandstone cliffs, numerous waterfalls and idyllic forests overlooking the vast waters of Lake Superior.
Among the attractions is Chapel Rock, a unique geological formation created thousands of years ago by the slow erosion of Cambrian age sandstone. There was once an arch connecting the formation to the mainland but this collapsed in the 1940's leaving a solitary tree standing high above the water.
The recording was made standing on the beach just west of the Chapel Rock formation with the surf crashing against the shore where Chapel Creek meets Lake Superior.